Web design for home services businesses
Rank Nearby offers web design and development for home service companies. Our local contractor websites generate more leads and sales, period!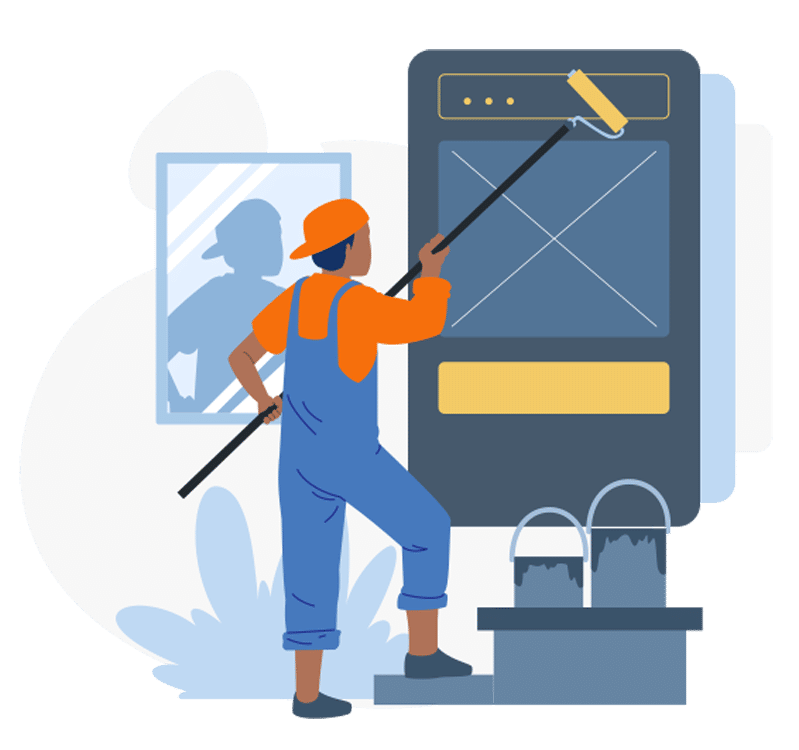 Professional Contractor Websites Designed to Increase Leads and Sales
Website Design for Home Services Contractors
We have been helping home service businesses enhance their online presence for decades by designing beautiful contractor websites that reflect your skill and professionalism.
Our web development process will result in a site that offers your business the best opportunity to stand out, attract targeted leads and convert those leads into dollars.
We combine innovative, responsive web design with your unique marketing message and package it all into a dynamic Content Management System (CMS) resulting in a quality website that will provide you with the best opportunity to dominate your target market.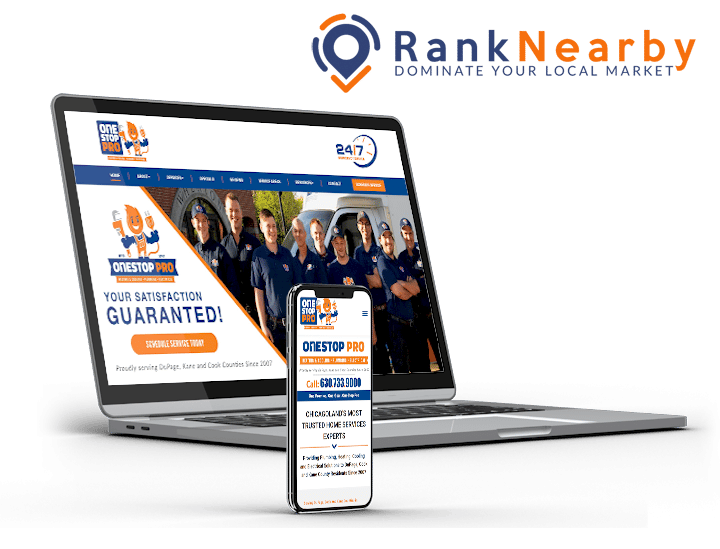 Local Home Services Contractors
Website Design & Development
What does your website tell visitors about your company? Do you accurately represent yourself? How would someone who visits your site feel if they were to purchase something from you? Can you trust what you see on your website? Are you giving off an image of professionalism and reliability? Will your website help or hurt your business?
Rank Nearby will ensure your website design reflects your business and conveys the message you want to send.
Your website should be clean, efficient and user friendly. It should give people confidence in your brand and your business. In addition, your website should be able to communicate clearly and effectively. We'll create a website that works hard for you.
Ready To Start Seeing Results With Your Marketing?
Are you curious to see how a different approach to marketing could work for your home services company? Connect with our marketing pros today and schedule a quick call to find out.
Professional Home Services Website Designers
As a home services contractor, you understand the value of having a consistent flow of inbound new client leads.
Rank Nearby's website design approach ensures that everyone who visits your site is able to use it easily. You clearly label pages and keep popular services at the forefront so that people don't leave your site before they book a job.
We assist local businesses of any size, from single man plumbing companies to multi-location service contractors and franchise organizations.
Our professional design team can help you ensure the design that you choose is representative of your home service business.
As a leading home service contractor marketing agency, Rank Nearby understands this. We have worked with many contractors whose profitability and growth relied on the number of geographically targeted new client leads they could generate.
Our website design services are designed to do one thing: generate leads for prospects that are located in your geographic service areas.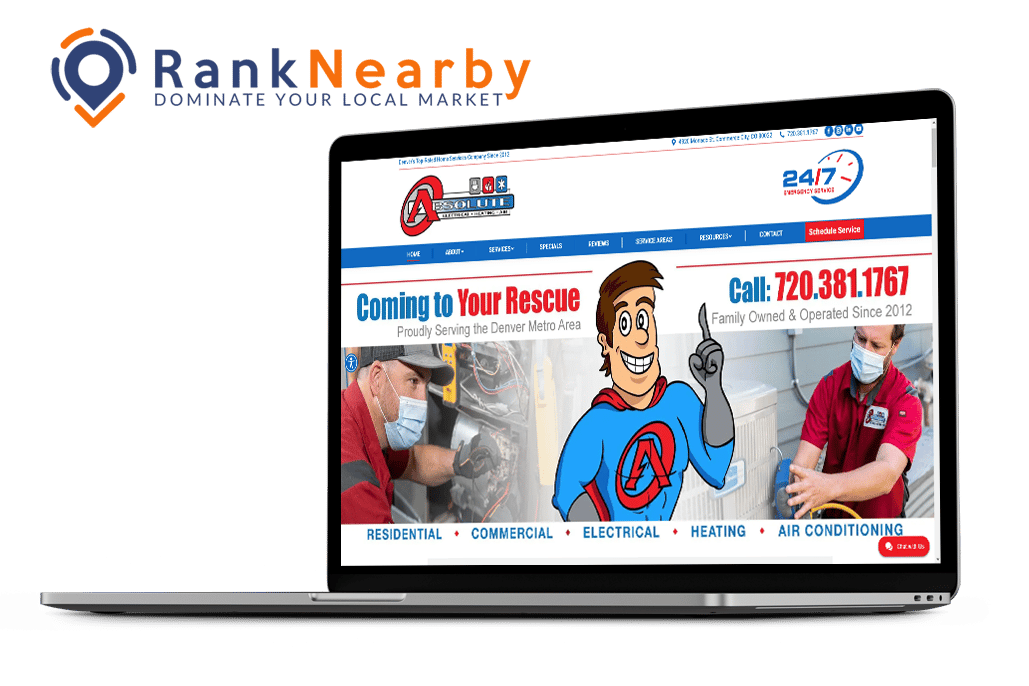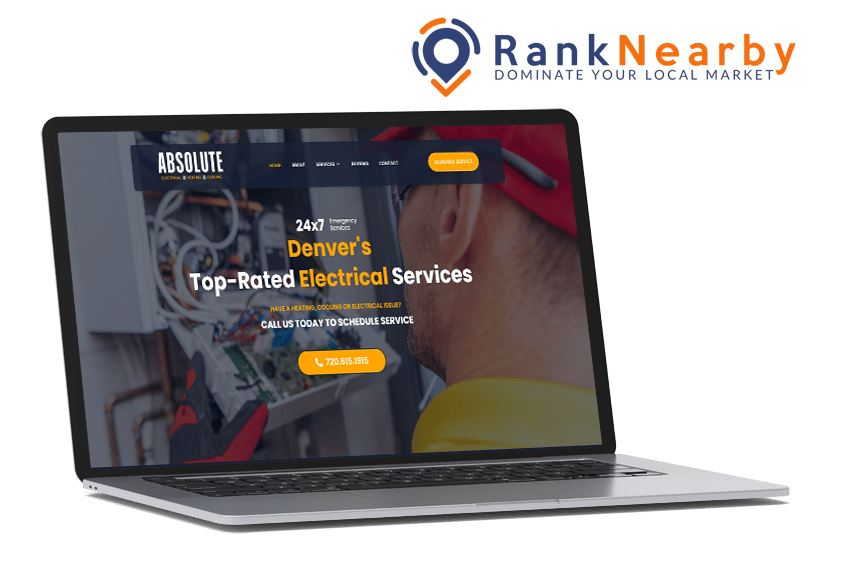 Built to Increase Leads and Sales
Custom Contractor Websites
Consumers choose home service providers based on several factors, including trustworthiness, level of experience, quality of workmanship, customer service and online reviews. They want to feel confident that your business is the right choice for their home service needs.
Whether you are a rapidly growing roofing company, a start-up landscape business or an industry leading construction firm, a professional website will be your secret weapon in attracting more new business and keeping your current customers from wandering to competitors.
The best service contractor websites focus on a specific target audience, contain compelling content, include strong calls to action and eliminates distractions, like annoying graphics and unnecessary content. This is not to say that the best service contractor website designs don't look attractive, they absolutely do, but the emphasis should not be solely on design, but rather a combination of aesthetics, architecture, layout, quality content and other features and functionalities designed to convert visitors into customers.
Local and regional home service contractors need a powerful web presence that addresses the concerns of customers and prospects, while delivering valuable information in a way that instills confidence, presents your company as the "expert in your field" and drives your visitors to take action. 
Comprehensive Marketing and Lead Generation Solutions
Home Services Industries We Help
"Working with the Rank Nearby team was great. We knew from the beginning that our website marketing project would be an ambitious undertaking, but they were able to seamlessly walk us through the process from start to finish. The entire team is extremely knowledgeable, experienced and very creative. If you need a web design or online marketing agency for your home services business, stop your search and call Rank Nearby today!"
"Rank Nearby has been terrific. They were fast at developing our new web site. Although our site was published just a few months ago, we are already getting roofing leads from it. We are also already appearing on the first page of Google searches for several important keywords and phrases. The results have happened faster than we expected. I highly recommend Rank Nearby."
Rank Nearby is the best! They developed our new website and created a detailed online marketing plan to fit our budget. I recommend these guys 1000% – they literally put our damage restoration company on the map and now our phone is ringing off the hook!
"We had used Google Pay-Per-Click for our internet marketing effort for years. We saw very minimal traffic at a very high cost. We engaged Rank Nearby to design our new website and work on our SEO program and the results have been nothing short of astounding. Our traffic has grown by leaps and bounds as has our business. I can't recommend them highly enough, they are professional, thorough and they deliver results!"
"Having worked with the Rank Nearby team for the past few years I can say unequivocally that their internet knowledge, development skill set and SEO expertise has dramatically improved my website traffic, lead generation and client conversion ratio. They provided me will full website development, deployment and ongoing on-page and off-page optimization. They have been spot on with their work product and support efforts, I highly recommend the team at Rank Nearby!"
"The team at Rank Nearby helped me bring my businesses into the 21st century in terms of website design, SEO and understanding how important online exposure and search engine ranking is for my local plumbing businesses. I view Rank Nearby as a vital part of my management team. Their expertise in matters of the Internet are second to none. I would encourage you have a dialogue with Rank Nearby before selecting a partner to work with!"
"We initially got in touch with Rank Nearby to help build a new website for our multi-location HVAC company because they came well recommended from another local roofing company. During our initial phone meeting, they explained the importance of proper web development and search engine marketing for local home services businesses like ours. We have experienced substantial growth in new customer inquiries and we couldn't be happier!"
"I was referred to Rank Nearby from a friend of mine who is the owner of a local cleaning company. Their attention to detail, exceptional professionalism and level of expertise is second to none. If you want the best website design and marketing for your home service company, reach out to these guys – I highly recommend the team at Rank Nearby."
We Help Home Services Business Owners Just Like You
Ready to start the process of mapping out a strategy to scale your business? 
Complete the form below to schedule a quick call with one of our marketing experts and we'll show you how you can dominate your targeted service areas.
By submitting your information you agree that Rank Nearby may process your information in accordance with its privacy policy.
Some of the areas we service are Kenosha, Sandy Springs, Clovis, Flint, Roanoke, Albany, Jurupa Valley, Compton, San Angelo, Hillsboro, Lawton, Renton, Vista, Davie, Greeley, Mission Viejo, Portsmouth, Dearborn, South Gate, Tuscaloosa, Livonia, New Bedford, Vacaville, Brockton, Roswell, Beaverton, Quincy, Sparks, Yakima, Lee's Summit, Federal Way, Carson, Santa Monica, Hesperia, Allen, Rio Rancho, Yuma, Westminster, Orem, Lynn, Redding, Spokane Valley, Miami Beach, League City, Lawrence, Santa Barbara, Plantation, Sandy, Sunrise, Macon, Longmont, Boca Raton, San Marcos, Greenville, Waukegan, Fall River, Chico, Newton, San Leandro, Reading, Norwalk, Fort Smith, Newport Beach, Asheville, Nashua, Edmond, Whittier, Nampa, Bloomington, Deltona, Hawthorne, Duluth, Carmel, Suffolk, Clifton, Citrus Heights, Livermore, Tracy, Alhambra, Kirkland, Trenton, Ogden, Hoover, Cicero, Fishers, Sugar Land, Danbury, Meridian, Indio, Concord, Menifee, Champaign, Buena Park, Troy, O'Fallon, Johns Creek, Bellingham, Westland, Bloomington, Sioux City, Warwick, Hemet, Longview, Farmington Hills, Bend, Lakewood, Merced, Mission, Chino, Redwood City, Edinburg, Cranston, Parma, New Rochelle, Lake Forest, Napa, Hammond, Fayetteville, Bloomington, Avondale, Somerville, Palm Coast, Bryan, Gary, Largo, Brooklyn Park, Tustin, Racine, Deerfield Beach, Lynchburg, Mountain View, Medford, Lawrence, Bellflower, Melbourne, St. Joseph, Camden, St. George, Kennewick, Baldwin Park, Chino Hills, Alameda, Albany, Arlington Heights, Scranton, Evanston, Kalamazoo, Baytown, Upland, Springdale, Bethlehem, Schaumburg, Mount Pleasant, Auburn, Decatur, San Ramon, Pleasanton, Wyoming, Lake Charles, Plymouth, Bolingbrook, Pharr, Appleton, Gastonia, Folsom, Southfield, Rochester Hills, New Britain, Goodyear, Canton, Warner Robins, Union City, Perris, Manteca, Iowa City, Jonesboro, Wilmington, Lynwood, Loveland, Pawtucket, Boynton Beach, Waukesha, Gulfport, Apple Valley, Passaic, Rapid City, Layton, Lafayette, Turlock, Muncie, Temple, Missouri City, Redlands, Santa Fe, Lauderhill, Milpitas, Palatine, Missoula, Rock Hill, Jacksonville, Franklin, Flagstaff, Flower Mound, Weston, Waterloo, Union City, Mount Vernon, Fort Myers, Dothan, Rancho Cordova, Redondo Beach, Jackson, Pasco, St. Charles, Eau Claire, North Richland Hills, Bismarck, Yorba Linda, Kenner, Walnut Creek, Frederick, Oshkosh, Pittsburg, Palo Alto, Bossier City, Portland, St. Cloud, Davis, South San Francisco, Camarillo, North Little Rock, Schenectady, Gaithersburg, Harlingen, Woodbury, Eagan, Yuba City, Maple Grove, Youngstown, Skokie, Kissimmee, Johnson City, Victoria, San Clemente, Bayonne, Laguna Niguel, East Orange, Shawnee, Homestead, Rockville, Delray Beach, Janesville, Conway, Pico Rivera, Lorain, Montebello, Lodi, New Braunfels, Marysville, Tamarac, Madera, Conroe, Santa Cruz, Eden Prairie, Cheyenne, Daytona Beach, Alpharetta, Hamilton, Waltham, Coon Rapids, Haverhill, Council Bluffs, Taylor, Utica, Ames, La Habra, Encinitas, Bowling Green, Burnsville, Greenville, West Des Moines, Cedar Park, Tulare, Monterey Park, Vineland, Terre Haute, North Miami, Mansfield, West Allis, Bristol, Taylorsville, Malden, Meriden, Blaine, Wellington, Cupertino, Springfield, Rogers, St. Clair Shores, Gardena, Pontiac, National City, Grand Junction, Rocklin, Chapel Hill, Casper, Broomfield, Petaluma, South Jordan, Springfield, Great Falls, Lancaster, North Port, Lakewood, Marietta, San Rafael, Royal Oak, Des Plaines, Huntington Park, La Mesa, Orland Park, Auburn, Lakeville, Owensboro, Moore, Jupiter, Idaho Falls, Dubuque, Bartlett, Rowlett, Novi, White Plains, Arcadia, Redmond, Lake Elsinore, Ocala, Tinley Park, Port Orange, Medford, Oak Lawn, Rocky Mount, Kokomo, Coconut Creek, Bowie, Berwyn, Midwest City, Fountain Valley, Buckeye, Dearborn Heights, Woodland, Noblesville, Valdosta, Diamond Bar, Manhattan, Santee, Taunton, Sanford, Kettering, New Brunswick, Decatur, Chicopee, Anderson, Margate, Weymouth Town, Hempstead, Corvallis, Eastvale, Porterville, West Haven, Brentwood, Paramount, Grand Forks, Georgetown, St. Peters, Shoreline, Mount Prospect, Hanford, Normal, Rosemead, Lehi, Pocatello, Highland, Novato, Port Arthur, Carson City, San Marcos, Hendersonville, Elyria, Revere, Pflugerville, Greenwood, Bellevue, Wheaton, Smyrna, Sarasota, Blue Springs, Colton, Euless, Castle Rock, Cathedral City, Kingsport, Lake Havasu City, Pensacola, Hoboken, Yucaipa, Watsonville, Richland, Delano, Hoffman Estates, Florissant, Placentia, West New York, Dublin, Oak Park, Peabody, Perth Amboy, Battle Creek, Bradenton, Gilroy, Milford, Albany, Ankeny, La Crosse, Burlington, DeSoto, Harrisonburg, Minnetonka, Elkhart, Lakewood, Glendora, Southaven, Charleston, Joplin, Enid, Palm Beach Gardens, Brookhaven, Plainfield, Grand Island, Palm Desert, Huntersville, Tigard, Lenexa, Saginaw, Kentwood, Doral, Apple Valley, Grapevine, Aliso Viejo, Sammamish, Casa Grande, and more.
Join our growing list of happy clients